A Note From Joey


Our most sincere thanks to all of you for your support in the past and thanks in advance for your support during this important time of transition for us. You can see from the pictures below that John has worked very hard to successfully take off 100 lbs. and stay healthy(!) after Roux en Y bariatric surgery. I have never seen him happier! He is using his renewed energy to focus on new material for our band jobs. And you'll see that there are many changes here on our website and that we're excited to be providing several totally different musical presentations to our Central New York Community...and all the wonderful people who have given us the opportunity to share our love of music and performing!!! You'll find descriptions of each of them on separate pages here on our website.


We've seen many clubs come and go, or change management and are really sorry to say that another club, Vendetti's Soft Rock and Goodtime Grill on Teall Ave. has now closed. We're grateful the the Mickey Vendetti family for the time we spent with them and their great staff! And, we're so very grateful to have the venues you will see below in our schedule and for the dance clubs...Top Hats, Patricians, the 100 Club, Puttin on the Ritz Dance Studio in Shoppingtown Dewitt, Fred Astaire Dance Studio of Syracuse in Fayetteville.


NOTE - Thanks for checking our schedule!!! Keep checking back with us, as we continually add dates! You're always welcome to call us at 315.476.6857 and/or email us at joeynigro@yahoo.com or joeyandjohn@twc.com to ask a question about anything on our schedule AND ask to be put on our email notifications list...or to request a booking for your club or special occasion.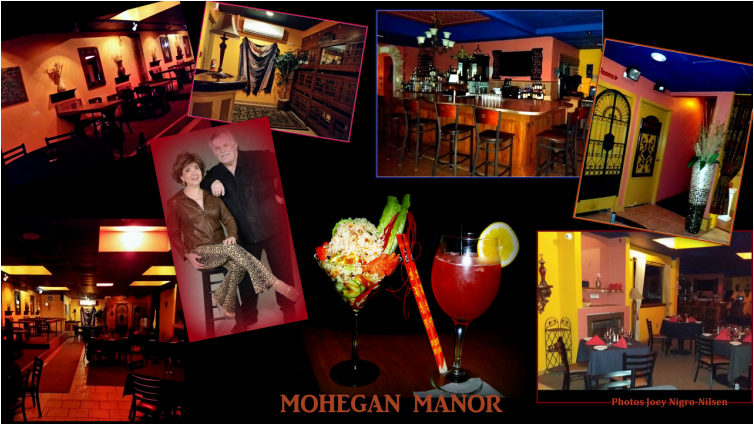 ---


Email us at joeyandjohn@twc.com to join our mailing list and get weekly eblasts!


2017

Valentine's Day Tuesday: February 14

Mohegan Manor
58 Oswego St., Baldwinsville
4:00 pm to 7:30 pm
Dinner Show
315.857.0079
Sample menu information: http://www.moheganmanor.com/
***See description of this exciting event and photos above.

Saturday: April 8th

George & Rebecca Barnes Foundation - Dancing With Our Stars
For information visit on this wonderful event:
http://www.grbarnes.org/event/dancing-with-our-stars2017/


Saturday: April 15th


Cicero American Legion Post 787
5575 Legionairre Drive

Cicero, NY
6:30 pm to 10:30 Pm
http://ciceropost.com/Default.aspx
Members and member guests only
315.699.0786


Saturday: April 22nd

Puttin' on the Ritz Dance Studio
Shoppingtown Dewitt (next to Sears)
http://ritzdancecny.com/
Call 315.476.5707
8:00 pm - 11:00 pm
Joey & John Guests Welcome!
Cover $12.00 pp
Great dance floor!

Saturday: May 13th

Top Hats Private Dance Club
Springside Inn
Members/Member Guests


Sunday: June 11th


St. Anthony's Italian Festival
http://www.saintanthonysfestival.org/
2-2:30 pm; 3:30-4:00 pm 5:00-5:30 pm and 6:30-7:00 pm


Saturday: June 17th

Sandy Pond Sportsman's Club
Sock Hop
6:00 - 10:00 pm
Joey & John followers welcome!
http://www.sandypondsportsmans.com
​
Saturday: June 24th

Puttin' on the Ritz Dance Studio
Shoppingtown Dewitt (next to Sears)
http://ritzdancecny.com/
Call 315.476.5707
7:00 pm to 11:00 pm
Joey & John Guests Welcome!
Cover $12.00 pp
Great dance floor!

Saturday: July 22nd

Private Concert
Colonial Court Campground
Sandy Creek, NY

Tuesday: July 25th

Private Event
WCNY Volunteer Appreciation Party/Cabaret Show


Friday: July 28th

Fennessey/Weber Wedding
Eastwood American Legion


Saturday: August 26th

Puttin' on the Ritz Dance Studio
Shoppingtown Dewitt (next to Sears)
http://ritzdancecny.com/
Call 315.476.5707
7:00 pm to 11:00 pm
Joey & John Guests Welcome!
Cover $12.00 pp
Great dance floor!

Saturday: September 16th

Syracuse Festa Italiana!
Downtown Syracuse Stage II
(the back of the stage faces Jefferson St., south of City Hall)
6:30 pm to 8:15 pm

You'll recognize the great music that we'll be doing of the Italian American crooners and rockers...and a few beautiful (and fun) Italian songs! We love doing these high energy outdoor concerts and hope you'll stop down for the great food offered by the vendors...and wave to us so we know you're there!!!
​
Wednesday: September 20th

Corinthian Club Italian Night
930 James St., Syracuse
That's Amore Dinner Show
5:30 pm cocktails/6:30 dinner

If anyone is interested in coming, call us at 315.476.6857. It's a fun show in a beautiful historic setting with a great dinner menu (cocktail hour with hors d'oeuvres; cash bar; antipasto; past pie (yummm); eggplant parmigiana (my favorite!); Utica greens; assorted pastries; limoncello and coffee, etc.). Dinner and show is $35.00 pp.

Sunday: September 24th


Tavern on the Lock
24 So. First St. Fulton (next to Lock 3)
Dancing/Small Plates Dining
5:00 pm - 8:00 pm
315.592.2661

This is a cabaret/dance event sponsored by Jim & Lois, a couple who have followed us for years, and we hope to make this first one a great success...so we can plan many more! Drinks (top shelf) and small plates will be offered by the club in the lower level banquet room from 4pm to 9pm where we'll present the very best of our cabaret/listening and dance music from 5pm to 8pm. No cover charge but reservations are required at 315.592.2661. Jim & Lois are excited...and so are we!!!

Saturday: October 7th


Once A Pompeian, Always A Pompeian Cocktail Hour
Our Lady of Pompei Parish/School Reunion Fundraiser
Lemoyne College
Information at Parish Office: 315.422.7163

Saturday: November 4th

100 Dance Club
Delta Lake Inn
Rome, NY
Members/Member Guests

Saturday: November 11th

Puttin' on the Ritz Dance Studio
Shoppingtown Dewitt (next to Sears)
http://ritzdancecny.com/
Call 315.476.5707
7:00 pm to 11:00 pm
Joey & John Guests Welcome!
Cover $12.00 pp
Great dance floor!

2018

Saturday: January 20th

Patricians Dance Club
Hart's Hill Inn
Whitesboro, NY
Members/Member Guests

Saturday: February 3rd

Top Hats Private Dance Club
Bellevue Country Club
Members/Member Guests

Saturday: April 7th

​George & Rebecca Barnes Foundation - Dancing With Our Stars
www.grbarnes.org

TBA: Weekend of June 9/10th

St. Anthony's Italian Festival
http://www.saintanthonysfestival.org/




Keep checking back as we hope to add more dates for 2017-18!


~~~~~~~~~~~~~~~~~~~~~~~~~~~~~~~~~~~~~~~~~~~~~~~~~~~~~~~~~~~~

2016


Friday: February 5th
Vendetti's Soft Rock Cafe
2026 Teall Avenue in Lyncourt (near Court St. intersection)
7:30 pm to 11:00 pm
315.399.5700


Saturday: February 6th

Vendetti's Soft Rock Cafe
2026 Teall Avenue in Lyncourt (near Court St. intersection)
315.399.5700
8:30 pm to Midnight
Casual neighborhood bar/Dance floor/Good burgers!/Great staff!


Sunday Valentine's Day: February 14th

Mohegan Manor
58 Oswego St., Baldwinsville
4:00 pm to 7 pm
Dinner Show
315.857.0079
Sample menu information: http://www.moheganmanor.com/
***See description of this exciting event and photos above.


Saturday: March 5th

Lamplighters Private Dance Group
Barbagallos
Members/Member Guests


Saturday: March 12th


Lombardo's Bridie Manor
7:30 pm to 11:30 pm
1830 Bridie Square, Oswego
315.342.1830
http://www.bridiemanor.com/


Friday: March 18th

Syracuse Moose Lodge 625
7:00 pm to 10:00 pm
1121 Milton Ave.
Ample dance floor!
Members/Member Guests
Guests of Joey & John: $6.00 pp/$10 couple cover charge or dinner. Call for more information.
315.488-3477


Friday: April 1st

Vendetti's Soft Rock Cafe
2026 Teall Avenue in Lyncourt (near Court St. intersection)
315.399.5700
7:00 pm to 11:00 pm
Casual neighborhood bar/Dance floor/Good burgers!/Great staff!


Saturday: April 9th

Patricians Dance Club
Maennerchor Club
Marcy, NY
Members/Member Guests


Saturday: April 16th

George & Rebecca Barnes Foundation - Dancing With Our Stars
OnCenter
800 So. State St.
5:30 pm to 10:30 pm


Tickets and information: 315.422.2445 or info@grbarnes.org
http://www.grbarnes.org/event/dancing-with-our-stars-2016/


Friday: April 22nd

Syracuse Moose Lodge 625
7:00 pm to 10:00 pm
1121 Milton Ave.
Ample dance floor!
Members/Member Guests
Guests of Joey & John: $6.00 pp/$10 couple cover charge or dinner. Call for more information.
315.488-3477

Friday: May 6th

Vendetti's Soft Rock Cafe
2026 Teall Avenue in Lyncourt (near Court St. intersection)
315.399.5700
7:30 pm to 10:30 pm
Casual neighborhood bar/Dance floor/Good burgers!/Great staff!

Saturday: May 14th

Private Party
Bella Domani

Friday: May 20th

Top Hats Private Dance Club
Liverpool Golf & Country Club
Members/Member Guests

Friday: May 27th

Syracuse Moose Lodge 625
7:00 pm to 10:00 pm
1121 Milton Ave.
Ample dance floor!
Members/Member Guests
Guests of Joey & John: $6.00 pp/$10 couple cover charge or dinner. Call for more information.
315.488-3477

Saturday: June 11th

Puttin' on the Ritz Dance Studio
Shoppingtown Dewitt (next to Sears)
Call 315.476.5707
7:00 pm to 11:00 pm
Joey & John Guests Welcome!
Cover $12.00 pp
Great dance floor!


Saturday: June 18th

Sandy Pond Sportsmans Club
3201 County Rte 15 in Pulaski
315.387.6310
6:00 pm to 10:00 pm
Guests of Joey & John welcome!
Great dance floor!
http://www.sandypondsportsmans.com/index.php/club-calendar


Friday: June 24th

Syracuse Moose Lodge 625
7:00 pm to 10:00 pm
1121 Milton Ave.
Ample dance floor!
Members/Member Guests
Guests of Joey & John: $6.00 pp/$10 couple cover charge or dinner. Call for more information.
315.488-3477


Saturday: July 16th

St. Mary of Mount Carmel/Blessed Sacrament
Italian Festival
648 Jay Street in Utica
315.735.1482
5:00 to 7:00 pm
Fantastic homemade Italian food!!!


Saturday: July 23rd

Private Party

Saturday: July 30th

Colonial Court Campground Concert
Invitation Only
Sandy Creek, NY


Friday: August 12th

Puttin' on the Ritz Dance Studio
Shoppingtown Dewitt (next to Sears)
Call 315.476.5707
7:00 pm to 11:00 pm
Joey & John Guests Welcome!
Cover $12.00 pp
Great dance floor!


Saturday: August 20th 2016

Vendetti's Soft Rock Cafe
2026 Teall Avenue in Lyncourt (near Court St. intersection)
315.399.5700
7:30 pm to 10:30 pm
Casual neighborhood bar/Dance floor/Good burgers!/Great staff!

Saturday: September 10th


Private Party - Wedding!


Saturday: September 17th

Festa Italiana!
Downtown Syracusehttp://www.festaitaliana.bizland.com/
6:30 pm to 8:00 pm
Small stage


Sunday: September 18th

WCNY Ciao Radio Show Live - Joey Nigro & Jim Battaglia
Festa Italiana!
http://www.festaitaliana.bizland.com/
Downtown Syracuse
Noon to 1:00 pm


Saturday: October 1st

Patricians Dance Club
Maennerchor Club
Marcy, NY
Members/Member Guests


Saturday: October 8 2016


Our Lady of Pompei Parish/School Reunion Fundraiser
Lemoyne College
Cocktail Hour 5:00 pm - 6:30 pm before dinner (Pompeian Players will perform later in evening)

Tickets, call Lucy Paris at the OLP Parish Office: 315.422.7163


Sunday: October 9 2016


Bellevue Country Club
Annual Sinatra Dinner
Members/Member Guests

https://www.bellevuecountryclub.com/


Saturday: October 22nd 2016

Vendetti's Soft Rock and Goodtime Grill
2026 Teall Avenue in Lyncourt (near Court St. intersection)
http://www.vendettissoftrock.com/menu-pacific/
315.399.5700
7:30 pm to 10:30 pm
Casual neighborhood bar/Dance floor/Good burgers!/Great staff!


Saturday: October 29th

100 Dance Club
Delta Lake Inn
Rome, NY
Members/Member Guests


Saturday: November 5th 2016


Fred Astaire Dance Studio
118 Mill St
Fayetteville, NY
https://www.fredastaire.com/syracuse/
Private Dance Event


Saturday: November 12th 2016

Puttin' on the Ritz Dance Studio
Shoppingtown Dewitt (next to Sears)
http://ritzdancecny.com/
Call 315.476.5707
7:00 pm to 11:00 pm
Joey & John Guests Welcome!
Cover $12.00 pp
Great dance floor!


Saturday: December 3rd

Vendetti's Soft Rock and Goodtime Grill
2026 Teall Avenue in Lyncourt (near Court St. intersection)
http://www.vendettissoftrock.com/menu-pacific/
315.399.5700
7:30 pm to 10:30 pm
Casual neighborhood bar/Dance floor/Good burgers!/Great staff!


Friday: December 30th


Fred Astaire Dance Studio
118 Mill St
Fayetteville, NY
https://www.fredastaire.com/syracuse/
Private Dance Event


~~~~~~~~~~~~~~~~~~~~~~~~~~~~~~~~~~~~~~~~~~~~~~~~~~~~~~~~~~~~~~~~~~~~~~~


George & Rebecca Barnes Foundation - Dancing With Our Stars
Venue TBA

Saturday: May 13th

Top Hats Private Dance Club
Venue TBA
Members/Member Guests


Saturday: June 10th


Puttin' on the Ritz Dance Studio
Shoppingtown Dewitt (next to Sears)
http://ritzdancecny.com/
Call 315.476.5707
7:00 pm to 11:00 pm
Joey & John Guests Welcome!
Cover $12.00 pp
Great dance floor!



Saturday: August 12th


Puttin' on the Ritz Dance Studio
Shoppingtown Dewitt (next to Sears)
http://ritzdancecny.com/
Call 315.476.5707
7:00 pm to 11:00 pm
Joey & John Guests Welcome!
Cover $12.00 pp
Great dance floor!




*******************************************************************************************************


Past Dates

2015

Tuesday: November 3rd

Our Lady of Pompei Election Day Spaghetti Supper
923 No. McBride St.
Syracuse


We will be performing the songs of Italian and Italian American pop singers from 12:00 noon to 1:30 pm and again at 5:00 to 6:30 pm. Dinner includes a hearty plate of spaghetti, meatballs, salad, garlic bread, dessert and refreshments. Dinners are $9.00; children 5 to 10, $7.00; children under 5 are free.


Thursday: November 5th

Basta on the River
7 Syracuse St.
Baldwinsville


We are thrilled to have the opportunity to do an audition at the Basta on the River, a lovely cozy bistro in the village of Baldwinsville. We sure would appreciate having a crowd there this Thursday, the 5th at 7:00 pm to inspire us!!!


Saturday: November 7th

100 Dance Club
Delta Lake Inn
Rome, NY
Members/Member Guests


Friday: November 20th

St. Joseph's Wine Tasting Fundraiser
Holiday Inn
Liverpool
6:00 pm to 8:00 pm


Saturday: November 21st

Puttin' on the Ritz Dance Studio
Shoppingtown Dewitt (next to Sears)
Call 315.476.5707 for cover cost
7:00 pm to 11:00 pm
Joey & John Guests Welcome!
Great dance floor!

Saturday: December 12th


Lamplighters Private Dance Group
Barbagallos
Members/Member Guests

Saturday: December 19th

Vendetti's Soft Rock Cafe
2026 Teall Avenue in Syracuse
315.399.5700
8:30 pm to Midnight
Casual neighborhood bar/Dance floor/Good burgers!/Great staff!

New Year's Eve: December 31 2015

Sandy Pond Sportsmans Club
3201 County Rte 15 in Pulaski
315.387.6310
8:30 pm to 12:30 am
Joey & John Guests Welcome!
Great dance floor!
http://www.sandypondsportsmans.com/index.php/club-calendar


IMPORTANT: Please contact us at joeynigro@yahoo.com or 315.476.6857 and let us know if you'd like to come up to Sandy Pond Sportsmans for New Year's Eve so we can let the club know. We will be performing in the bar and guests will bring a dish to pass. We haven't chosen to play New Year's Eve in a number of years but said "yes" to the Sportsmans Club...they are a fun and great group of people!


Saturday: October 3rd

Patricians Dance Club
Harts Hill Inn
Whitesboro, NY
Members/Member Guests

Friday: October 9th

Vendetti's Soft Rock Cafe
2026 Teall Avenue in Syracuse
315.399.5700
8:00 pm to 11:00 pm
Casual neighborhood bar/Dance floor/Good burgers!/Great staff!


Saturday: October 17th

Private Party
50th Anniversary!

Fridays: July 10th, August 14th, September 4th

916 Riverside (formerly Castaways)
916 County Route 37 in Brewerton
668.3434
7:00 pm to 10:30 pm

Saturday: July 18th

St. Mary of Mount Carmel/Blessed Sacrament
Italian Festival
648 Jay Street in Utica
315.735.1482
8 to 11 pm
Fantastic homemade Italian food!!!


Friday: July 31st
Hamilton High School Class of '65 Reunion
White Eagle Lodge in Hamilton
Note: We're thrilled to once again be invited to play for John's high school classmates!!!

Saturday: August 22nd

Puttin' on the Ritz Dance Studio
Shoppingtown Dewitt (next to Sears)
315.476.5707
7:00 pm to 11:00 pm
Joey & John Guests Welcome!
Great dance floor!


NOTE: Check their website for testimonials. We couldn't agree more, Donna makes dancing easy and FUN!
http://ritzdancecny.com/


Friday: August 28th

Vendetti's Soft Rock Cafe
2026 Teall Avenue in Syracuse
315.399.5700
7:30 pm to 10:30 pm Friday, the 28th
Casual neighborhood bar


Saturday: April 11th
Lakeshore Country Club
Lamplighters Private Dance Group
Members/Member Guests


Fridays: May 1st, June 5th,
916 Riverside (formerly Castaways)
916 County Route 37 in Brewerton
668.3434
7:00 pm to 10:30 pm


Saturday: May 2nd
Liverpool Country Club
Top Hats Private Dance Group
Members/Member Guests


Friday: May 15th
Vendetti's Soft Rock Cafe
2026 Teall Avenue in Syracuse
315.399.5700
8:00 pm to 11:00 pm
Casual neighborhood bar with small dance floor

Saturday: May 23rd
Sandy Pond Sportsmans Club
3201 County Rte 15 in Pulaski
315.387.6310
7:00 pm to 11:00 pm
Joey & John Guests Welcome!
Great dance floor!
http://www.sandypondsportsmans.com/index.php/club-calendar


Saturday: March 7th
Lamplighters Private Dance Group
Barbagallos Restaurant
Members/Member Guests


Fridays: January 9th, 23rd & February 20th & 27th CASTAWAYS RIVERSIDE - Brewerton
7:00 pm to 10:30 pm
315.668.3434

























---
---